Top Surfing Spots on the Sunshine Coast
For those more seasoned surfers that love to long board, there are a number of spots on the Sunshine Coast worth checking out. Here we have a few of them. If you know of more, please feel free to post a comment.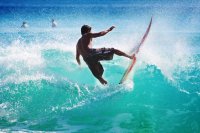 For those more seasoned surfers who love to long board, there are some places on the Sunshine Coast that you have to check out. Before you take off to find these locations, get a car hire in Sunshine Coast sorted. Having your own car will give you the freedom to get to hit these surf spots when you want to, with your own board. Noosa National Park The park is one of Australia's most frequently visited and is a hot spot for surfers of all levels of experience. The strong currents here make for great surf but mean you should be particularly careful. Stick to patrolled beaches with lifeguards around. Alexandra Headland This beach is popular with surfers and will suit those who are more experienced on their board. Go to the break off the headla . . .
Posted By ken on Friday 13th June 2014 @ 12:05:40
Updated : Tuesday 17th June 2014 @ 15:04:06 | Words : 288 | Views : 3761 | Comments : 0
Post Topic
You must be registered to submit a post within the Aussie Bargain Car Rentals Blog. If you are already registered, please login. Alternatively, register now for FREE.