Noosa Sporting Events in October
Noosa sporting events to look forward to in October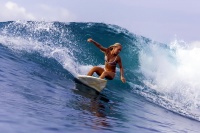 Every year the Sunshine Coast welcomes action packed sporting events, and this year is no different. Cruise over to Noosa in your car hire this October. Here you'll find stunning scenery, outdoor activities, great places to eat and exciting sporting activities. Noosa International Sevens Festival October 3-5 As part of the Australian Sevens rugby circuit, this is said to be one of the best premier Sevens rugby tournaments in the Southern Hemisphere and is quickly becoming one of the most prestigious Oceania Sevens tournaments. Alongside the men's teams, there will be a seven-team women's tournament with national squads as well as those from further afield. The top men's team will have a place at the IRB World Series Next year in Hong Ko . . .
Posted By ken on Thursday 4th September 2014 @ 15:39:15
Updated : Monday 28th January 2019 @ 02:22:46 | Words : 299 | Views : 2763 | Comments : 0
Post Topic
You must be registered to submit a post within the Aussie Bargain Car Rentals Blog. If you are already registered, please login. Alternatively, register now for FREE.